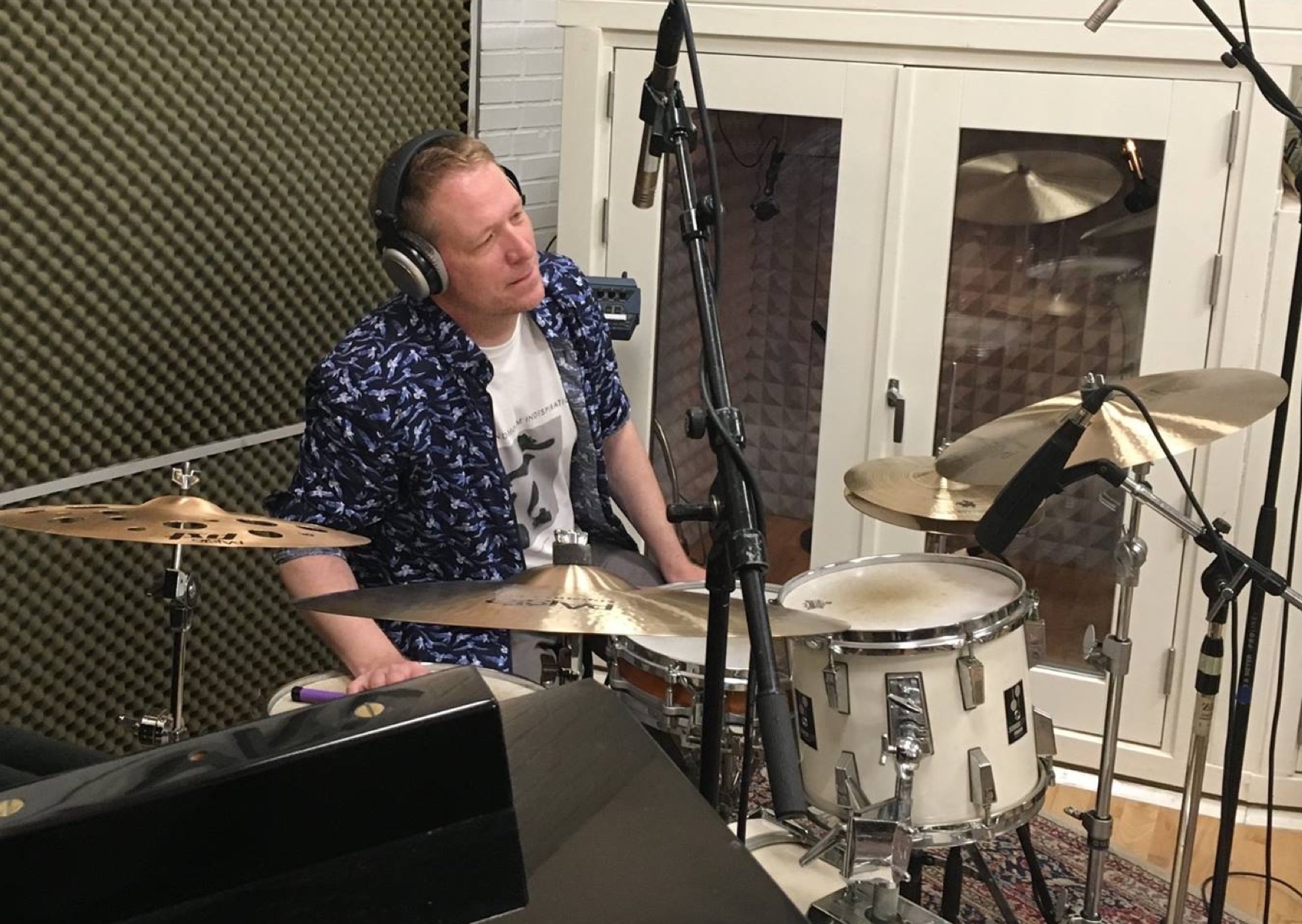 Carsten Lindholm is a Danish drummer, composer and producer born in the small town of Kerteminde on the island Fünen.
He moved to Copenhagen in 1990 and began studying at the music concervatory D.A.R.K. He later took private lessons with Jazzlegend Ed Thigpen, Aage Tanggaard at the Rhythmic Conservatory, professor at the Royal Classic Conservatory Bent Lylloff, New Orleans drummer Jeff Boudreaux and a lot of other danish fusion drummers.
In 1990 he contacted drummer Peter Erskine in order to take private lessons. However, at that time it was difficult for them to match schedules, so he actually never got to study with him. But Carsten got a supportive motivating mentor and penpal instead, who he has met during concerts and studio work in New York, Monterey and Copenhagen.
In 1996 Carsten went to Vallekilde, a Danish Jazz summercamp, where he met finish drummer Jukkis Uotila, Swedish bassplayer Lars Danielsson and Norwegian trumpeter Nils Petter Molvaer, all strong personalites, who became great mentors and inspired him to change his musical direction and go into Nordic Jazz music.
In 1998 he went to New York 3 months to check out the musical level of the town and to study the South Indian rhythm-language Konnakol. Carsten also travelled to meet Jazz-vibist and founder of Steps Ahead, Mike Mainieri, who had been his hero since he first heard Steps Ahead. Mainieri had made a huge impact on Carsten with his melodic, sophisticated and dynamic expression of music. Not unexpected, he also was a great personality.
Back in Denmark Carsten started playing at different Jazz clubs, receptions and weddings in Copenhagen and met a lot of great musicians like Luther Thomas and Jens Melgaard who, among other things, taught him to be enthusiastic for the music and give himself 100 % on stage or in the practice-room. The sudden death of Jens Melgaard drove Carsten to write music, and he started the Tribute project.
In 2011 the "Tribute" album was based on a tribute to people (living or dead) who had made a deep impact on Carstens life.
The filmic music is a mixture of: Jazz, Drum`n`bass, ambient soundscapes and Indian tabla beats based on a simple Nordic melody. His music mentors and influences for this album counts: Sting, Erik Truffaz, Nils Petter Molvaer, Jan Garbarek, Jon Hassell, Eivind Aarset, Bugge Wesseltoft, John Coltrane, Bill Laswell and Jojo Mayer.
In December 2016 Carsten released "EP Ballads" on Itunes, Amazon a.o, which is a compilation of different recordings with his Norwegian and Danish friends with focus on the trumpet instrument.
In October 2017  he released his 3rd album "Indispiration" on the German label JazzNArts Records.
The music is best described as minimalistic Nordic Jazz mixed with Indian rhythmic compostions and features his 15 favourite musicians from 6 different countries as: Erik Truffaz, John Beasley, Reggie Washington, Pete Judge/Jim Barr.
The compositions was influenced by Esbjorn Svennson, Brad Mehldau, Steps Ahead, Jan Garbarek, Manu Katche, Bugge Wesseltoft, Trilok Gurtu, Arve Henriksen, Erik Truffaz.
With the album "Indispiration" he wants to state the importance of inner peace which he finds is needed more than ever in the world today – as well as the importance of a cultural open mind between countries.
Facts about Carsten Lindholm:
Jazz drummer since 1989
2 albums, 1 EP and several singles. New album release expected 2021/2022
Concerts in Hamburg, Stuttgart, Caen, Copenhagen